Strictly NO Wheat and Dairy for Kristina Rihanoff
Strictly Come Dancing Star Reveals How Food Intolerances left her Bloated and Zapped of Energy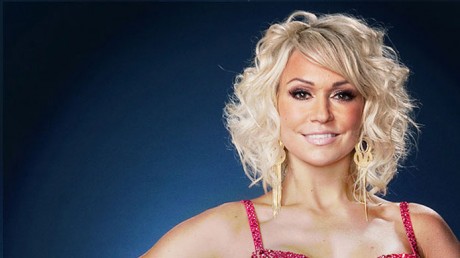 Strictly star, Kristina Rihanoff, has revealed that she once suffered from fatigue, bloating, headaches and a weak immune system. Once she'd hit her 30s, Kristina began to notice a number of debilitating health problems. After struggling with her symptoms and busy schedule, she was shocked when a routine test uncovered that despite her healthy diet, she had developed a number of food intolerances to foods that she was eating regularly, not only that but this could potentially be the cause behind her ill health.
Now, a picture of health, Kristina says that in previous years, she wouldn't have been able to maintain the tough demands of the Strictly schedule, but taking a food intolerance test led her to completely overhaul her diet and she is now feeling better than ever.
She said: 'I've always followed a healthy diet and combined with my job as a dancer and choreographer, I always thought that made me very healthy. But when I hit my 30s I kept getting headaches and picking up coughs and colds. I felt bloated and tired all the time and despite my dancing I never had any energy. I was exhausted all the time.'
Kristina was put in touch with food intolerance experts, YorkTest, and underwent a food and drink scan test to try and establish what was causing her problems.
She said: 'I've always believed in the phrase "You are what you eat", but I was stunned when I got the results. The test showed I was intolerant to a number of things, including wheat and dairy, the sort of foods I had previously thought were healthy.
'In my mind I was a healthy eater. But here I was being told by a nutritionist that so many of the foods I ate, and that I thought were good for me, could have been the cause of my problems all along.
'I was advised to avoid dairy and looked into alternatives. I decided to swap cow's milk for almond or hemp milk and I stopped eating wheat and instead went for other grains, that YorkTest recommended like quinoa and barley.'
Kristina decided to follow a new diet for three months to test the effects, but within weeks she began to notice a difference, as well as losing weight.
'When I started the diet I was wearing a dress size 10. Within a few weeks my stomach felt flatter and the puffiness I'd felt before had gone and I could get into a size eight.'
With 45% of the UK[1] suffering from food intolerance, it's clear that Kristina isn't the only victim of this hidden epidemic. Food Intolerance doesn't just mean a bloated, painful stomach, it can cause a huge range of symptoms, many of which can be extremely distressing and can dramatically impact on your quality of life. Common symptoms include weight gain, nausea, symptoms associated with IBS, skin rashes and irritation, increased tiredness and lethargy, and headaches. Sufferers are often unaware that they are affected by food intolerance and suffer in silence for years without seeking help.
To make sure you aren't getting caught out by food intolerance, you can test yourself from home by ordering the YorkTest FirstStep Test, a simple finger-prick home blood test that you then post to the YorkTest laboratory for analysis. They will tell you if you have an intolerance and you can then choose a secondary testing programme to suit you. It's a personal service that's unique to your individual requirements, giving you all the facts you need to keep your body looking and feeling great.
A FirstStep Test is available for £9.99.  Following the FirstStep, if your result is positive you can then progress to either the FoodScan, which tests for intolerances to 113 trigger foods for £250, or the full Food&DrinkScan for £299. For a limited time, if you progress to the full Food&DrinkScan after taking the FirstStep, the initial test price will be subtracted from the cost of your full test.
Unlike other more basic tests available, YorkTest customers will be fully supported with their dietary changes. Food&DrinkScan offers comprehensive patient support that includes:
·      Two telephone consultations with a BANT[2] registered nutritional therapist who will offer specific individual advice
·      Help on how to incorporate the recommended diet changes
·      A 12 week food diary with diet tips to help sufferers keep track of the changes they are making to their diet.
Food&DrinkScan can be purchased from www.yorktest.com or by calling free phone 0800 074 6185.
-END-